The Dark, Rainy South Coast of Iceland
I researched before I set out to Iceland. I had the best photography gear (that I could get my hands on). I had all the proper outdoor gear to enjoy cold, wind and rain at 30-50 degrees. What I didn't have was the mindset I needed to be prepared to completely miss some of the epic locations that I had come to see and photograph. I was also a but unprepared for how living out of a camper van for a week was going to be if it was rainy. It made getting dry, and drying out gear REALLY hard. It was unfortunate that I let this get me down, because in my grumpiness I completely failed to truly enjoy a delicious cup of coffee at the awesome Skool Beans cafe in Vik (Sir Jeffery was no where to be seen, I assume he was off slaying dragons) . Although I didn't get a chance to set up a camera and make photos due to intense wind, rain and the thickest fog I've ever been in; it was still an absolutely amazing place to see, around every mountain was another view that was just amazing. I've decided to break up the images and stories into different parts that all seem to fit well together. I am starting however with the second part of the journey. The begining shall be shared at the end.
Because I'm a complete camera nerd, let's get the gear part over with.
Canon EOS R5 – The main work horse for the trip
Canon EOS R – The backup incase the worst happens (and it did)
Canon RF 70-200/4 – I was told that a wide angle was the most important lens I could take to Iceland. I completely disagree. The majority of images that I loved were taken with this lens.
Canon EF 16-35/4 – Super sharp wide angle landscape lens, of course.
Canon RF 50/1.8 – Perfect for documentary style shots around towns.
Irix 15/2.4 – If the aurora decided to pop out, this was a must (and it did!)
B+W 3, 6 & 10 Stop ND Filters – I heard Iceland has a few waterfalls.
1950's Canon IIIa + 50 MM 35mm – Probably the most useless thing I packed. I just didn't have time to use it.
Peak Design Travel Tripod(Aluminum) – I love the aluminum version for the added weight when setup in wind/moving water. This thing is twiggy, but extremely solid and reliable.
JCC Camera Rain Covers – These were a life saver and the only reason I was able to come back with any photos of the south coast.
I stored all of this along with my clothes for the week, snacks, and jackets in my F-Stop 32L Lotus bag which fit perfectly in the overhead bin on the plane.
With all of the complaining and tech talk out of the way, I hope you enjoy my photos from the very rainy, wet and foggy south coast of Iceland.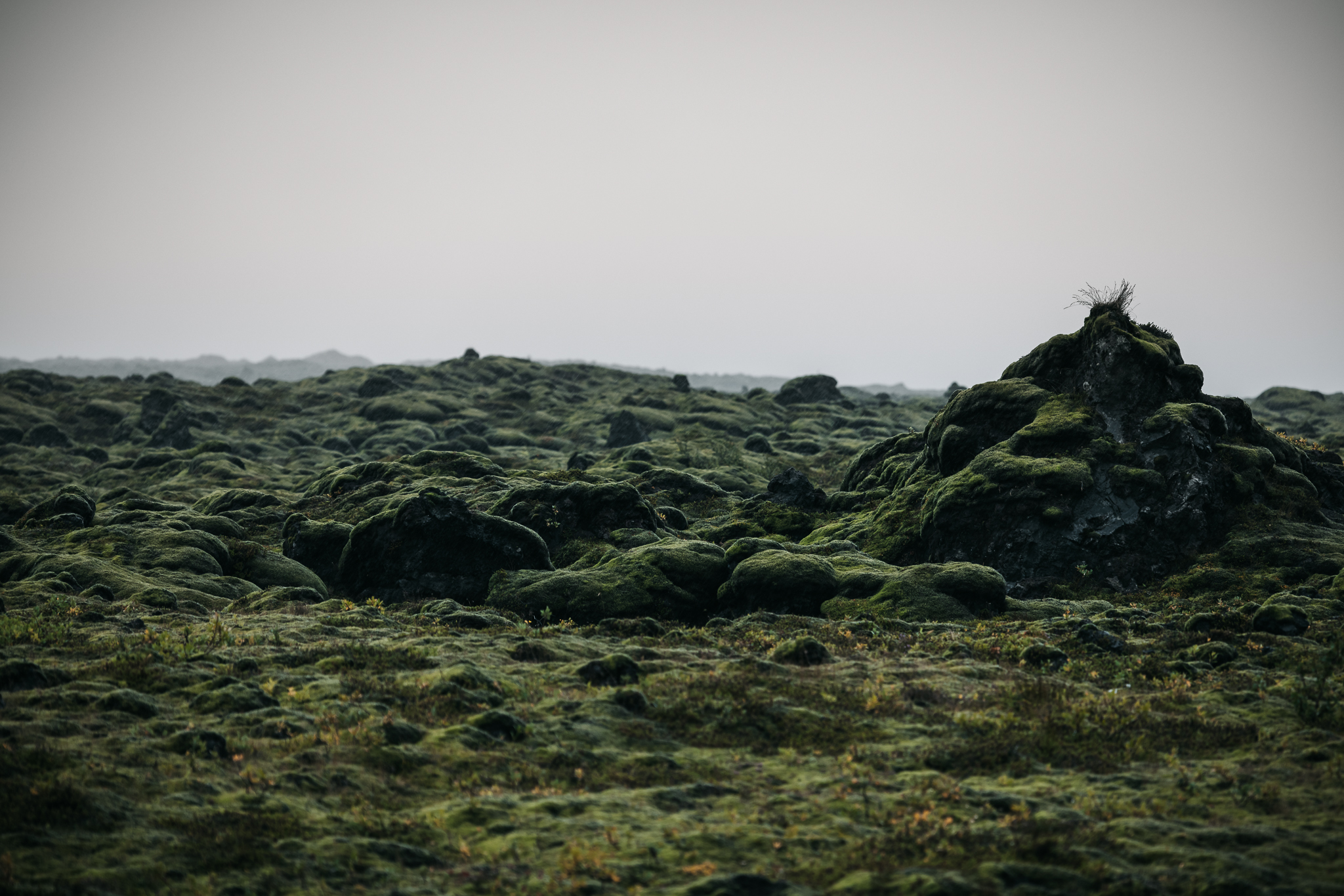 We drove through miles and miles of beautiful green mossy covered lava fields. Structures like the one above are partly responsable for the legends of elves. Shortly after we came to some very alien landscape that was made even more erie by the fog. It gave the impression that nothing just went on forever.
After a short while, there begain grass and hills again and we came to visit Seljalandsfoss.
Skógafoss! Next it was on to Skógafoss! Another of the most photographed waterfalls in the world. On the day that I visited, the rain was incredible and had been for a while which made the water flow exceptionally strong. This created so much mist and coupled with the driving rain that had started made this one of the toughest places that I tried to photograph in Iceland. It wasn't possible to get a show from further back because of the rain, so I figured If I was going to get wet, I might as well get close. I trekked up as close as I could to the fall, about 50 ft closer than where I took this photo from. The mist and wind from the fall was amazingly powerful. When I turned to walk back out I found that the wind and rain had picked up to try to equal the great waterfall, and I was blasted with water from the other direction as well. On a positive note, my rain gear did a magnificent job of keeping me dry!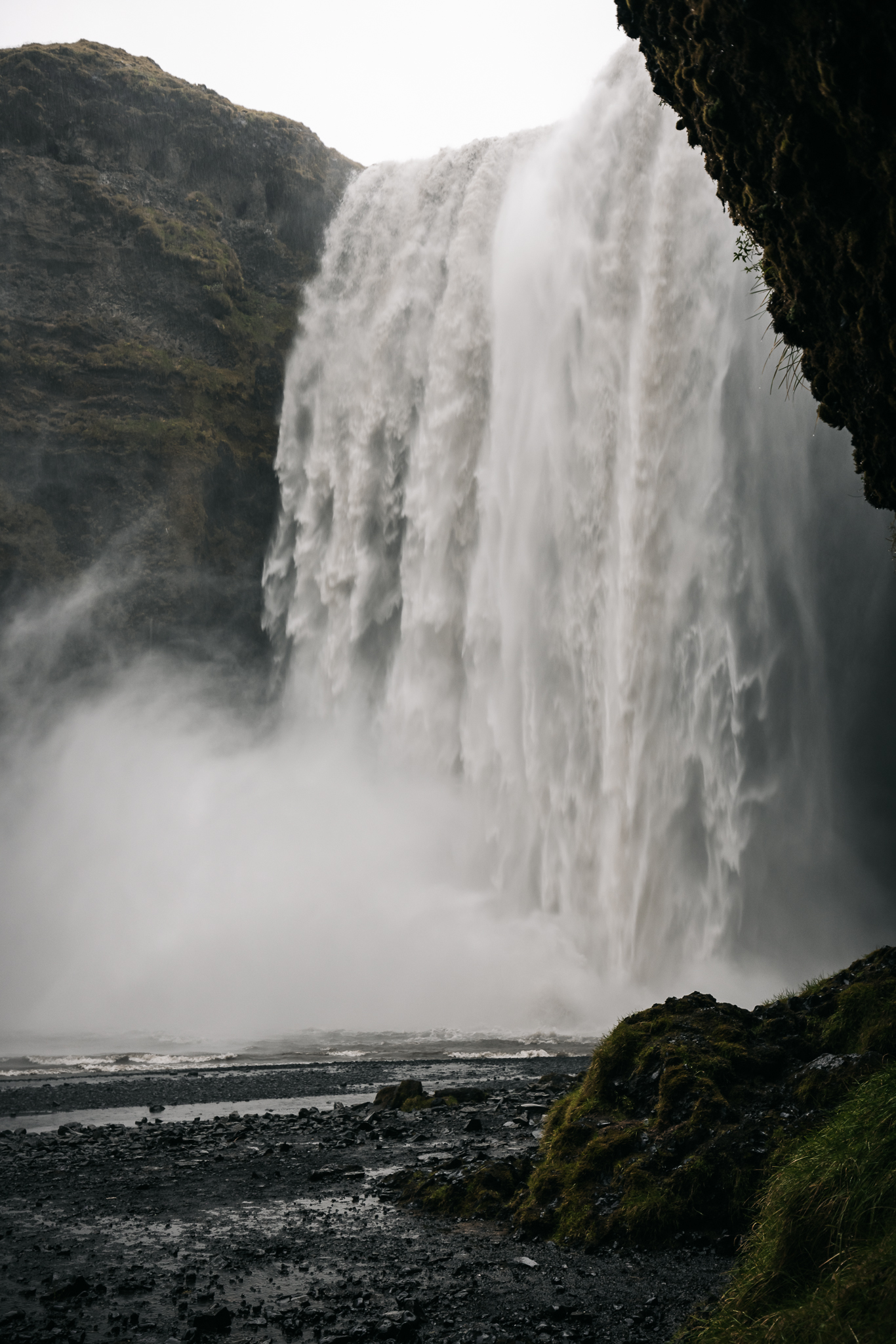 After leaving Skógafoss a bit disapointed, I came across this beautiful fall situated by a home on private property and stoped to admire the strength of the wind again as the angle it faced caused the water to flow back and forth from left to right almost rhythmically. 
By the time I reached Vik, I was exausted from a day of hiking and driving. We had dinner at Black Crust Pizza where I got this one and only small peak at the famous sea stacks of the black sand beach, Reynisfjara.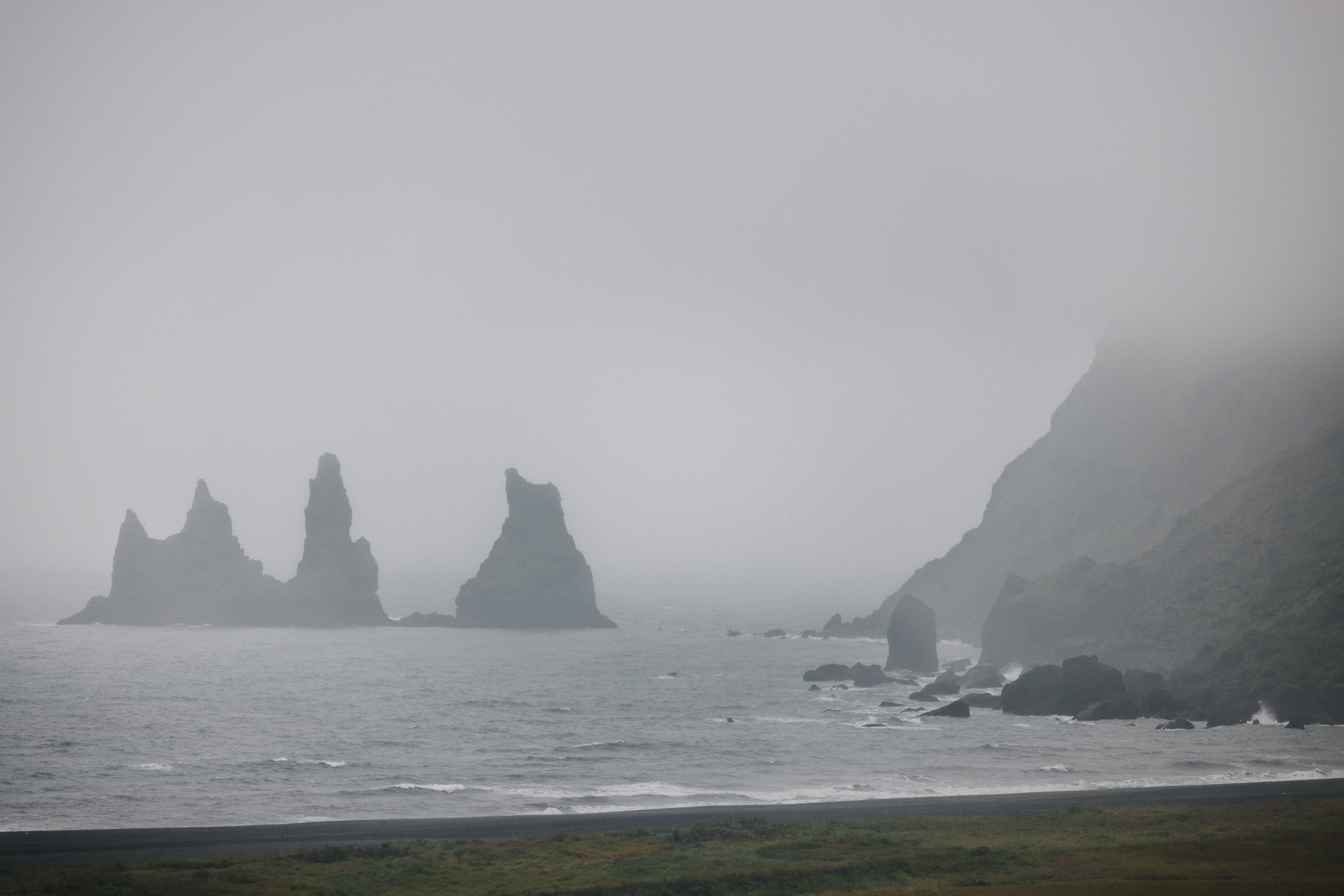 We planned a camp site up in the mountains that was partially inside of a cave, but the route took us up and over some crazy mountain ridges which combined with the fog to make it seem as though it was a sheer drop into oblivion on both sides of the road. This was okay, still we pressed on until we came to an area that we could not get our van through due to the roads being flooded and had to turn back. We ended up backtracking back down into Vik for a camp site. From this point, I became a baby and had had enough of the rain and wet. I went for a shower but was unable to get a spot, and then lost my coins and my patience and gave up. The next morning was more of the same weather, so instead of staring gloomily at an uncooperative landscape, we headed east in search of glaciers, ice and warm showers; and from that point on the weather turned in our favor. Even though I was disappointed about missing a lot of the locations I had planned on the south coast, the images that I did get are so very special to me and a great example of a less shown experience in Iceland.